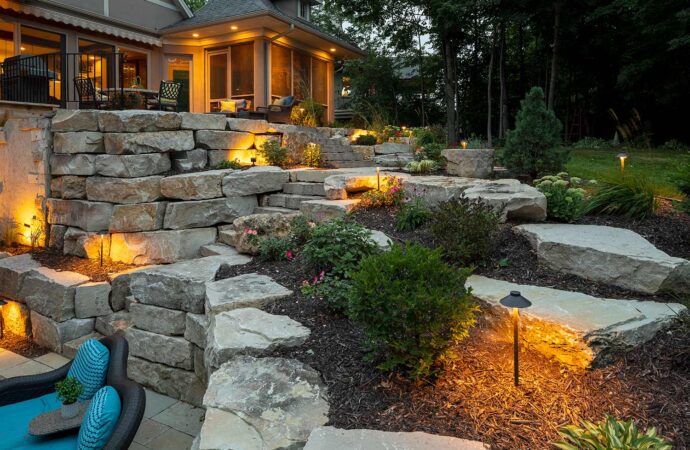 Have you ever brought a date home and thought that it would be romantic to take them for a stroll down your garden? Then, when you're there, you let go of their hand, wanting to give them a surprise kiss. Instead, you somehow lose your bearings and kiss a tree, or who knows what else you might have ended up kissing, by mistake? Oops. How embarrassing. Scenarios like these are exactly why you need landscape lighting! This would surely never happen if you had enough lights around your outdoor living area! Take it from us, we are experts in landscape design.
Oh, right. How rude of me to have skipped the introduction. Hello there, we are "Pasadena Landscape Designs & Outdoor Living Areas". We have a team of highly competent, creative, and detail-oriented individuals who come together to focus on a common goal. What goal might this be? Why I am glad you asked. In all our projects, the only goal that matters to us is whether we are able to satisfy your landscaping needs or not. With us, you can be sure that your needs and expectations, mean something and we will do our best to achieve what you expect.
Are you ready to invest in landscape lighting? If I were you, I would jump right in. If you think taking a stroll in the garden is romantic, wait until you have experienced our lighting concepts. We can turn your landscape from ordinary to extraordinary. With the right mood lights, we can even set a romantic scene in your very own backyard.
What are you waiting for?! Get in touch with us today and we will be ready to draft some proposal ideas for your consideration. Once you have decided on a theme or feel, we will start on your landscape lighting, effective immediately. In the meantime, why don't you check out our other services?
Who knows, you may be interested in our other services as well: Landscape Design & Installation, Outdoor Patios, Outdoor Pergolas, Stonescapes, Residential Landscaping, Commercial Landscaping, Irrigation Installation & Repairs, Drainage Systems, Landscape Lighting, Outdoor Living Spaces, Tree Services, and Lawn Services.
Here is a list of our services you can get at Pasadena TX Landscape Designs & Outdoor Living Areas:
We service all of Texas. Below is a list of cities most of our services are at on a daily basis: