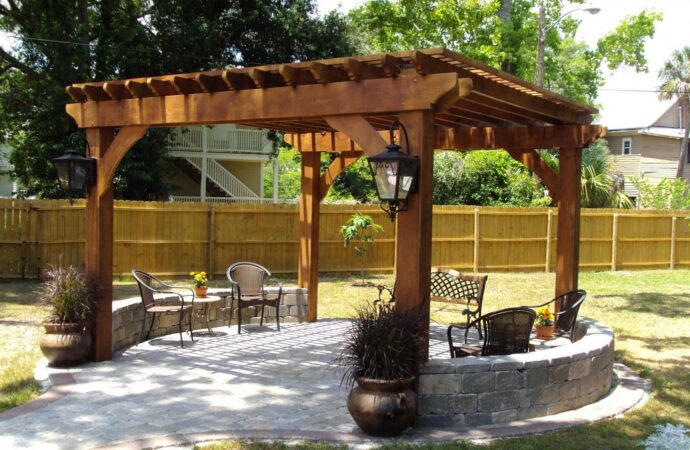 Do you want an outdoor entertainment lounge? Do you want the possibility to be able to dine outdoors? Do you want to make better use of your outdoor living spaces? Why not consider having outdoor Pergolas in place? Are you telling me you don't know what is a pergola? It is an outdoor structure, supported by beams and rafters. It is also topped off with a roof, either a roof that is fully covered or a roofing grid that leaves open spaces for you to look up at the night sky while you enjoy your dinner. Oh, how romantic.  
So, what do you think? Would you be interested in having a Pergola of your own? Because if you are, we would be perfect for the job! Pardon me, I may have skipped our introduction. So, who are we? We are Pasadena Landscape Design & Outdoor Living Areas! Our team consists of highly motivated, creative, and competent individuals! All are driven by the same goal – To achieve your highest satisfaction.
Let's get down to business, shall we? What would we require from you? Of course, we would need to establish two-way communication. We would need to understand what kind of feel or theme you would like your Pergola to go for. Then, we will draft out some designs for you, and you may choose which you would like to have brought to life!
None of our designs meet your expectations. Let us know what you would like to have changed and we will have it done. However, do bear in mind that also may consult you on the design ideas. For example, the feasibility of the design.
Does that sound good to you? What are you waiting for? Why not reach out to us now and let us build your dream, Pergola?! While you are at it, why not also check out the other services which we have available for you? Services included: Landscape Design & Installation, Outdoor Patios, Outdoor Pergolas, Stonescapes, Residential Landscaping, Commercial Landscaping, Irrigation Installation & Repairs, Drainage Systems, Landscape Lighting, Outdoor Living Spaces, Tree Service and Lawn Service.
Here is a list of our services you can get at Pasadena TX Landscape Designs & Outdoor Living Areas:
We service all of Texas. Below is a list of cities most of our services are at on a daily basis: